Fire Emergency Power Supply (EPS)
Product Detail
Product Tags
Model and meaning
Model:EPS- WZ/D□ -kW

EPS

Represents emergency power supply for fire fighting equipment

WZ/D

Company code: D single phase

□

representative power

kW

representative capacity
 Specification range
■Specification range: 0.5kVA-10kVA
■Single-phase input (220V, AC): (standard type) hanging type: WZD-0.5kVA, 1kVA, 1.5kVA, 2kVA
Embedded: WZD-0.5kVA, 1kVA, 1.5kVA, 2kVA
Floor-standing; WZD-0.5kVA, 1kVA, 1.5kVA, 2kVA, 3kVA, 4kVA, 5kVA, 6kVA, 7kVA, 8kVA, 10kVA
Three-phase input; (380V, AC) yes; (standard) floor-standing; WZD3-0.5kVA, 1kVA, 1.5kVA, 2kVA, 3kVA, 4kVA, 5kVA, 6kVA, 7kVA, 8kVA, 10kVA
Note: The latest national standard GB17945-2010 stipulates that the standby time is 90 minutes.
Product Features
■Emergency power supply - When the mains is interrupted or the voltage exceeds the specified range, it will automatically provide 220V/50HZ sine wave AC or DC emergency power supply to ensure the normal operation of the fire-fighting lamps and other important loads.
■High performance - Adopt SPWM high frequency inverter technology, high power supply quality, adapt to various loads.
■High reliability—Adopt advanced technology and redundant design, with CPU control, and carefully manufactured with high-quality components, stable performance and high reliability
■Perfect protection—It has excellent output overload protection, short circuit protection, battery reverse connection protection, overdischarge protection and other perfect protection functions, and has strong anti-misuse ability.
■ Friendly interface - LCD displays working status, mains voltage, output voltage, battery voltage, current, frequency, load rate, fault and other information clearly and clearly; and has functions such as sound and light fault alarm, fault indication and fault silencing.
■Simple operation—high degree of automation and convenient operation.
■Strong charging ability A high-current charger with self-controlled charging technology is installed in the machine, which has fast charging speed, stable floating charging voltage, and can be connected to an external battery to extend the power supply time.
■Concise structure. The functional components in the machine adopt modular design, the structure is simple and the maintenance is convenient.
■Intelligent battery management—Select maintenance-free battery and intelligent battery monitoring and management system to strengthen battery monitoring and prolong battery life and utilization.
Model Specifications

EPS-WZD-0.5kW-10kW

enter

Voltage

220VAC±15%

Phase

Single-phase two-wire system

frequency

50Hz±5%

output

capacity

According to the equipment nameplate identification

Voltage

220V±5%

frequency

50Hz ±1%

overload capacity

120% normal work, over 50% mandatory protection within 1S

Protect

Undervoltage, overvoltage, overload, phase loss, short circuit, overtemperature, battery overcharge, overdischarge

Battery

Maintenance-free VRLA battery 48VS 192VDC

192VDC

Conversion time

Special occasions≤0.25S —General occasions≤3S

Backup time

Standard: 90min, different emergency time can be customized according to customer's environmental needs

display

LCD, TFT

working environment

Mains without noise: ≤55dB in emergency

Mains without noise: ≤55dB in emergency

0-95%

0-95%

-10°C-40°C Best working temperature: 25°C

-10°C-40°C Best working temperature: 25°C

≤2500M

≤2500M

adapt to load

Suitable for various lighting loads
The main model
Single input single output WZD series: 0.5, 1, 1.5, 2, 2.5, 3, 4, 5, 6, 7, 8, 9, 10kW;
Three-in-out single WZD3 series: 0.5, 1, 1.5, 2, 2.5, 3, 4, 5, 6, 7, 8, 9, 10kW
Backup time: 30 minutes/60 minutes/90 minutes 120/minute, the backup time can be configured according to design requirements.
The main performance characteristics
■Soft start, small starting current 1q≤1.31(A);
■Reduce the temperature of the motor starting, effectively prolong the service life of the motor;
■The starting process is smooth and has no impact on mechanical equipment;
■It can be started continuously for 5 to 10 times, and the starting performance is better than that of frequency-sensitive starters;
■ The requirements for the power grid are not high, and harmonics will not be generated to affect the power grid;
■Reliable and simple structure, easy to install and maintain;
■Good versatility, suitable for soft starting of wound motors under any load conditions, especially suitable for heavy-load starting;
■It has multiple protection functions such as starting overtime, loss of pressure, overtravel, and overtemperature;
■When used in the northern cold region, the device has its own electric heating function.
EPS intelligent remote monitoring and management
1. It can centrally monitor all the intelligent EPS power supplies of users in the network and save the EPS related information (normal/emergency working state, output voltage, charging fault output, controller fault parameters) to the management database, which can realize unattended operation.
2. The real-time background (running in SERVICE-SYSTEM service mode) listens to the intelligent EPS power failure alarm, and sends the alarm information to the relevant personnel in the form of eye-catching image and sound, mobile phone short message, E-mail, etc. and saves it in the event record database for future use. Manager inquiries.
3. The working condition of each EPS power supply can be monitored, the real-time dynamic information can be detailed with relevant data and historical event records, and it is convenient to directly control it remotely.
4. Communication interface: The network protocols TCP/IP, IPX/SPX supported by RS-232 can be combined with the security automatic monitoring system.
5. Software environment: Chinese interface, support Windows98, Windows Me, Windows NT, Windows2000, WindowsXP, Windows2003.
6. The principle of EPS intelligent remote monitoring system is shown in the figure below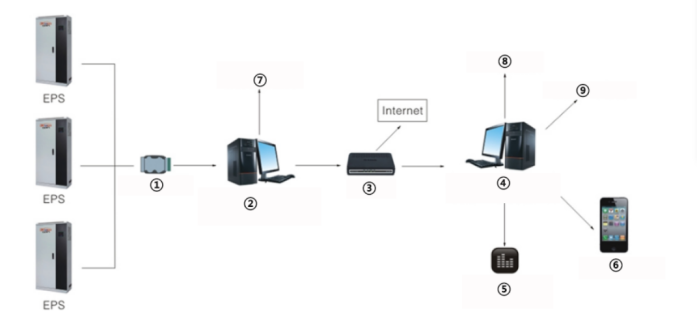 ---
Previous:
Maintenance-free battery
---