Single Phase 20KVA30 kva voltage stabilizer
Product Detail
Product Tags
General
● SVC,SDV Series single phase servo type high accuracy full automatic AC voltage regulator adopts the international advanced technology and intelligent CPU centralied control technology .
● It has the advantages of high efficiency, beautiful appearance and reliable performance,easy to moving,large capacity and so on. which is composed of servo motor,control circuit,compensator.
● it has advantages of small volume,light weight,high efficiency,high precision,wide voltage stabilizing range,no waveform distortion etc .
● All products have over voltage, delay, temperature and error production and also voltage two-way indication.
● which make the function of the product more perfect and reliable.To ensure quality,we introduce the advanced technology abroad,main parts adopts import spares.
●They are widely used in the fields of household appliances,industrial and agricultural production,scientific research,medicine and health areas.
Model

SVC-10000

SVC-15000

SVC-20000

SVC-30000

Nominal Power

10000VA

15000VA

20000VA

30000VA

Power Factor

0.6-1.0

Input

Operating Voltage Range

120~275V

Regulation Voltage Range

140~260V (custom made)

Frequency

50HZ

Connection Type

Input terminal block

Output

Operating Voltage

180~255V

High Cut Voltage

255V

Low Cut Voltage

180V

Safety Cycle

3 Seconds / 180 Seconds (Optional)

Frequency

50HZ

Connection Type

Output terminal block

Regulation

Regulation %

1.5% / 3.5%

Number of Taps

NO

Transformer Type

Toroidal auto transformer

Regulation Type

Servo type

Indicators

Digital / Meter display

Input voltage ,Output voltage,Load current

Protection

Over Temperature

Auto Shutdown at 120 ℃

Short Circuit

Auto Shutdown

Overload

Auto Shutdown

Over / Under Voltage

Auto Shutdown
The advantages of this model :
1.Wide Input voltage: AC140~260V or customize
2.2. High technology: Programmed control computerized
3.3. The high accuracy of the output voltage(220v+/-1.5%)
4.4. Quality insurance: Main spare parts made by ourselves, for example, transformer, PCB.
5.5. Perfect protection function: Over/low voltage protection, over-heat/load protection,short circuit protection.
6.6. Option Function: with voltage regulator and mains supply two kind output voltage choice function, in mains supply relatively stable season, the usercan put voltage stabilizer in mains supply state, there is no power consumption , it is economic and convenient.
7.7. High efficiency: More than 95%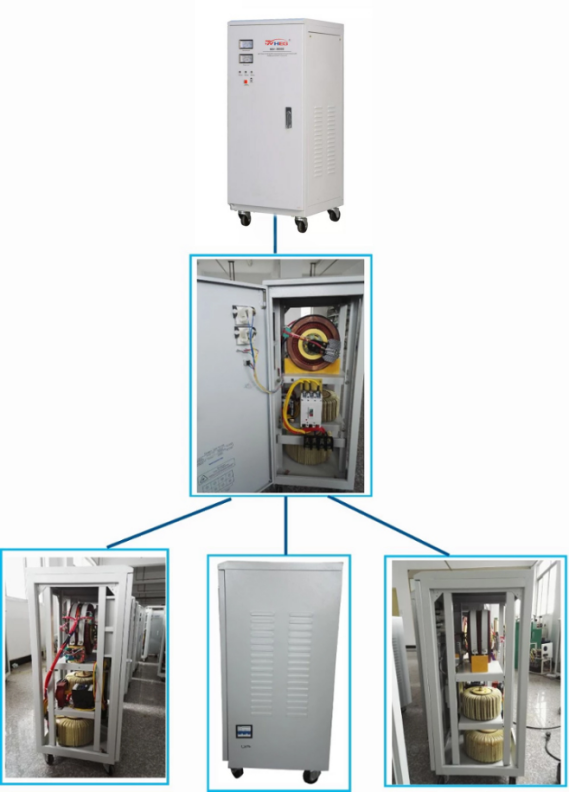 ---
Previous:
High Frequency Online UPS 0.5K-3K
Next:
SVC 3000VA Servo Motor Digital Meter Display Full Power AC Automatic Voltage Regulator Stabilizers AVR
---